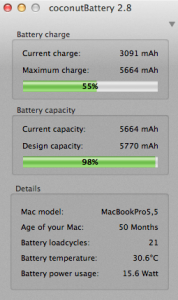 After four years of honorable service and more than 800 charge cycles the battery capacity of my macbook pro was reduced to 60%, with a range of about 2 hours. Most of the batteries sold on the web have a capacity between 3600 and 4200 mAh, much lower than the original.
After some research I purchase one battery produced by "Dr. Battery" with a nominal capacity of 5800 mAh, you can buy it on various sites (Eprice, ShopMania ..) with a price of € 108.88.
The performance of the new battery is shown in the snapshot of coconBattery.