La presente guida interessa lo sblocco dell'Ipad 2 e dell'iPhone 4S tramite un Tool CLI (command-line interface) cinject 0.4.3. eseguibile da riga di comando e pertanto richiede un po' di dimestichezza con il terminale.
Lo script è scaricabile da: sites.google.com/a/iphone-dev.com/files/home/cinject_0.4.3.zip e funziona sia per OS X che per Windows.
Collegate il vostro dispositivo tramite il cavo USB ed eseguite un backup.
Aprite il terminale e andate nella cartella cinjects_0.4.3. e digitate il comando:
./cinject -s

se rileva il vostro device e se legge le directory:
./cinject -d
possiamo procedere al jailbreak del dispositivo.
Le opzioni complete per l'utilizzo dello script sono le seguenti:
——————————————————
Configuration profiles:
-l List current profiles
-i <file> Install profile
-r [<pattern>] Remove all profiles, or profiles matching pattern
AFC transfers:
-a <number> Alternative afc service to use (2 is available after jailbreak)
-u <file> … Upload file(s) via afc (add final "dir=dirname" to specify which afc directory)
-d [<dir>] Show list of files in afc directory
-X <path> Delete afc directory or file
ROP assistance:
-s Compute slide
-e Erase existing crash logs
-g Get diagnostics
Backups and restores:
-B Create backup
-R Restore from backup
-L <mbdb_file> List contents of an MBDB file
-M <file> Modify the ipsec.plist on device
-p <file> Modify the preferences.plist (requires -f too)
-f <file> File to use with -p
-H Hide media files
-U Unhide media files
Chained operations:
-j <dir> Jailbreak device using given payloads directory (ADVANCED use only!)
Other:
-w Watch syslog
-v <level> Debug verbosity level
-h This help message
Per procedere al jailbreak digitate:
./cinject -j payloads
a seguito dell'errore digitate:
sudo cinject -i payloads/jailbreak.mobileconfig
confermate sul dispositivo l'installazione della connessione VPN jailbreak, non inserite nessuna password quando richiesto e successivamente digitate:
./cinject -j payloads
adesso attendete con pazienza la creazione del backup.
Se visualizzate il seguente errore, per altro molto comune:
FATAL(__LINE__): Assertion failed (1266): got == sizeof(size) 1266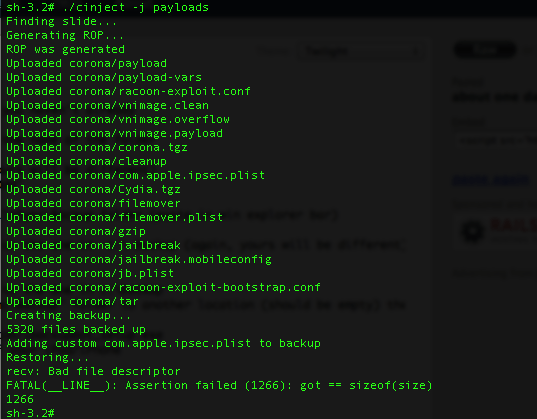 provate a rilanciare il comando:
sudo ./cinject -j payloads
se non va a buon fine, allora dovete effettuare il ripristino del dispositivo, sia dal dispositivo direttamente, ripristinando da iTunes o tramite terminale, digitando:
./cinject -R
se l'errore invece è il seguente:
send 1: Result to large
provate e staccare e riattaccare il cavo USB
se tutto è andato bene, digitate:
cinject -w
successivamente, senza scollegare il dispositivo, attivate la connessione VPN (Impostazioni/Generali/Rete), premete OK ed attendete il riavvio.
Una volta riavviato il dispositivo sarà installatà l'applicazione cydia.